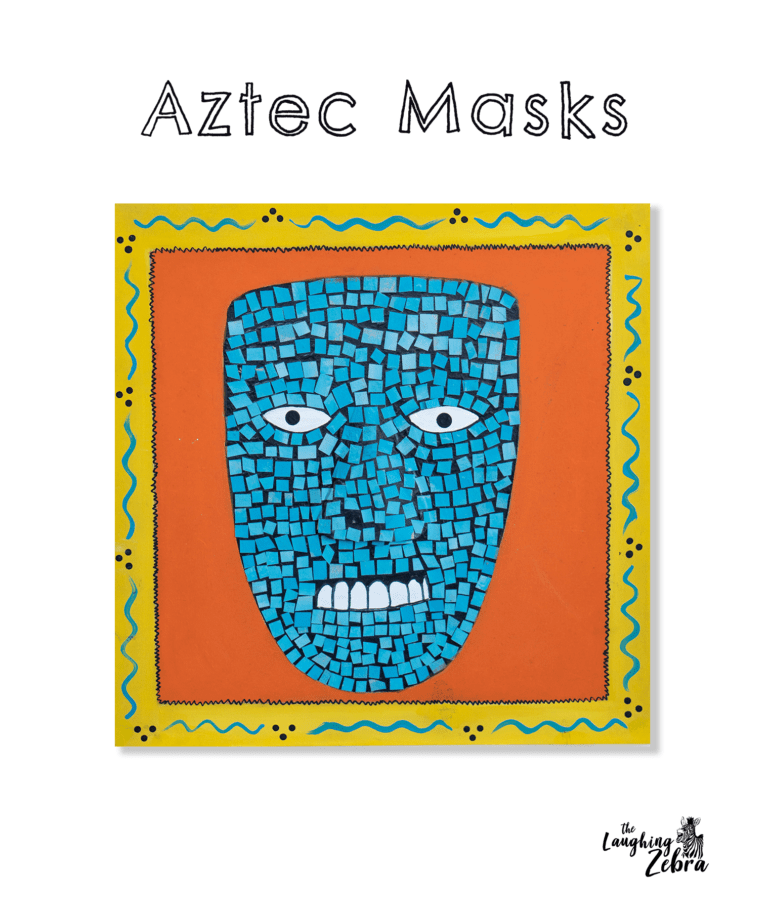 Aztec Masks Art History Lesson
This page contains affiliate links and I may receive a commission for purchases made through these links. Everything on this page I have used and heartily recommend for teaching art.

This Aztec Masks art lesson is another project I did with one of my 5th and 6th grade classes this year.  I tied it in with their study of the Aztec and Mayan cultures and the early explorers. This took two 2-hour class periods.
How To:
I created a mask template (with eyes cut out) that each student traced around onto their board, then they attached a piece of cardboard we cut for a nose shape using tape. The inside of the mask was base coated black (except for the eyes and mouth), and the outside of the mask was base coated white.

While that was drying, I had the students paint 1/4 sheets of watercolor paper with a medium, dark, and light turquoise color streaking it on the paper instead of blending it in ( to make it look like real turquoise).

When the paint was dry they cut these into small tile pieces.

After the mask board was dry they added a border with a ruler and painted that in yellow, and the background orange.

Next they added the mosaic pieces with some Mod Podge, being careful to leave the black showing thru on all sides of each piece.

After painting the teeth and eyes in they went over the whole mask with the Mod Podge. 
They each finished the piece with their own border design, and a Sharpie outline between the background and border.
This was a time consuming process, but produced a very real mosaic look when finished. I forgot my camera that day and so I don't have any pictures of the student's Aztec masks art.

Let me know in the comments if you have any questions or if you try out this project and please refer people back to this site if you use this lesson! 🙂
I'm writing a book!
I am excited to announce my latest project!  My daughter and I are working on a big, beautiful, creatively designed book on artist related lessons (similar to the ones on this website but with more details, step by step instructions and photos). The book will be for anyone who wants concise, detailed, well laid out lessons that are ready to teach, in a format that is fun to look at as well.
Book Info