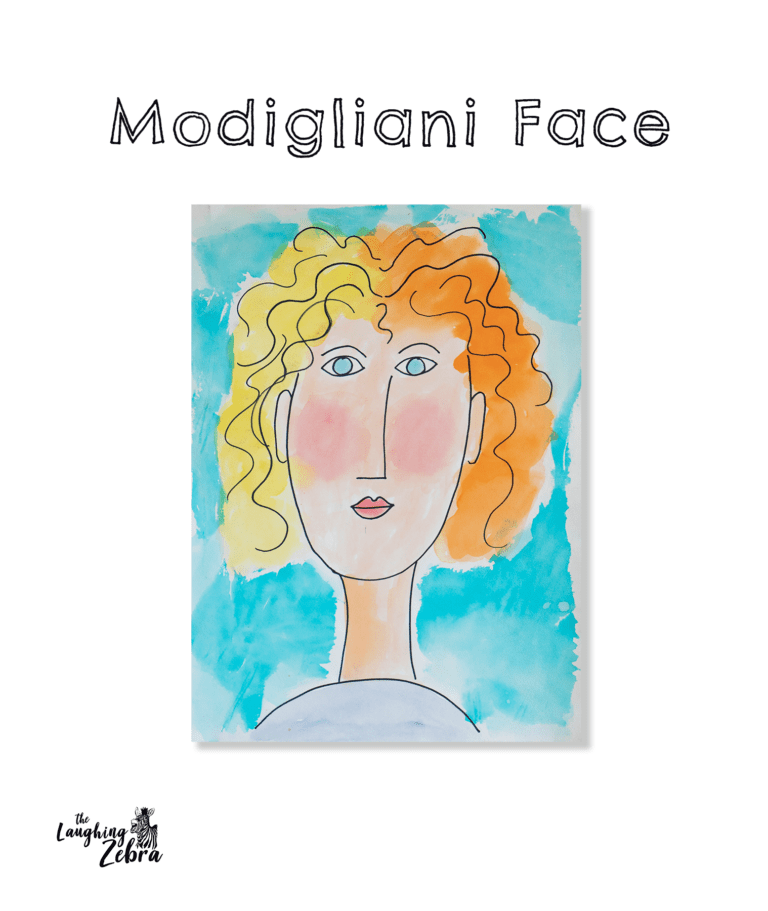 Modigliani Tissue Paper Face Project
This page contains affiliate links and I may receive a commission for purchases made through these links. Everything on this page I have used and heartily recommend for teaching art.

Amedeo Clemente Modigliani (July 12, 1884 – January 24, 1920) was an Italian artist who worked mainly in France. If you are not familiar with this artist he was famous for his paintings of elongated faces with long skinny necks. His drawings were simple and stylized. This is a fun lesson to do with all ages, and I have added the tissue paper background for an extra twist, since the face 
painting can be a fairly quick project to do.
How To:
I begin this lesson by showing some of Modigliani's portraits. I talk about the long skinny faces and necks, and the almond shaped eyes,simple nose, and small rosebud lips.

Starting with a big skinny U shape, I have the students practice a simple face drawing in this style following my steps as I do it on a whiteboard. For fun I have them do simple curly lines for the hair. If I have already done a portrait lesson with them I point out the difference between a more realistic portrait; the shape and size of the features, and the placement of them compared to Modigliani's faces.

Next I have them do a large drawing of the face on the watercolor paper, filling up most of the space. After they have done it in pencil, I have them go over all the lines with Sharpie.

Then we watercolor the faces. I let them have some freedom with the hair, making it two-tone if they want, and just painting it loosely around their Sharpie lines.

After they have done the painting part then we use small pieces of tissue paper to fill in the background putting water under and over each piece with a brush and overlapping them.

When the tissue dries we pull that off, and you end up with a textured looking background.
Let me know in the comments if you have any questions and please refer people back to this site if you use this lesson! 🙂
I'm writing a book!
I am excited to announce my latest project!  My daughter and I are working on a big, beautiful, creatively designed book on artist related lessons (similar to the ones on this website but with more details, step by step instructions and photos). The book will be for anyone who wants concise, detailed, well laid out lessons that are ready to teach, in a format that is fun to look at as well.
Book Info