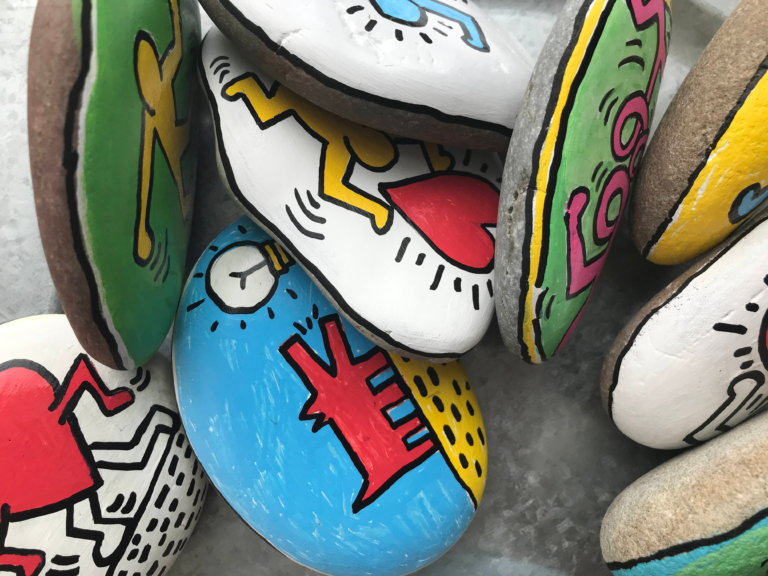 This page contains affiliate links and I may receive a commission for purchases made through these links. Everything on this page I have used and heartily recommend for teaching art.

Keith Haring is a fun artist to introduce to kids. His simple childlike drawings are easy to draw and fun to color. I always like to use unusual painting surfaces when I can to help break the boundaries of traditional art, and Keith Haring's art is a perfect choice for doing some rock art.
WARNING: These are addicting!
Resources for teaching about Keith Haring
When I teach an art lesson, I like to first tell my students about the artist we are studying before we start the actual art part. I try to find great videos, images, and slideshows that have already been created and are easy to access to help educate my students. Here are a few resources for teaching your kids a little bit more about the artist we are studying in this lesson, Keith Haring!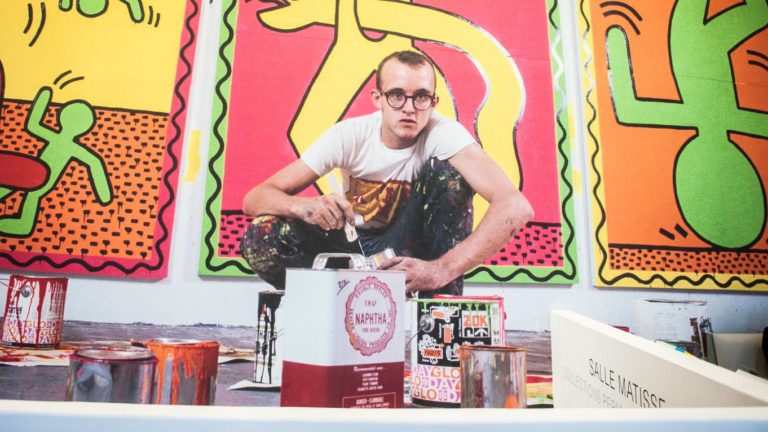 Who is Keith Haring?
Keith Haring was born in 1958, in Pennsylvania, USA. He loved drawing cartoons and visiting museums. He is known for colorful, cartoon artworks and certain characters such as crawling babies, barking dogs and spaceships. When he was 20 years old he moved to New York City. Keith Haring started becoming famous and had exhibitions in galleries. When the paintings were sold, he often gave the money to children's charities. Haring, painted art with and for kids. He made murals in lots of children's hospitals and schools. He even painted a massive artwork of the Statue of Liberty with over 1000 kids!
Rocks (rocks that are flat and smooth and have a 3-4 inch painting surface work best for this project but you can adapt it to fit a smaller or larger rock).
Above are some good Keith Haring images to choose from for this project, but you can find all kinds of artwork by him online that would also work.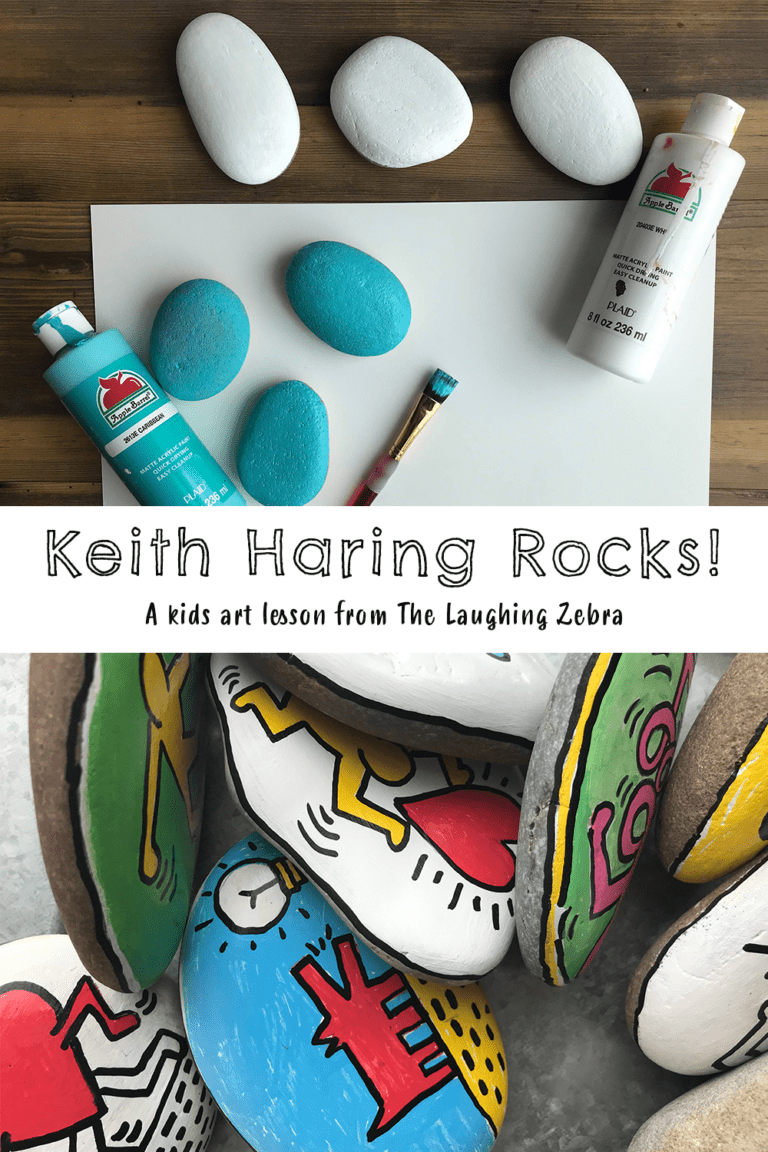 Step-by-Step:
 Start by cleaning your rock(s) with soap and water and then let dry.
Using acrylic paint do a base coat on the top of the rock. You can use any color but I find for doing Haring artwork it is good to start with a base of white. You can paint another color over this if you want a different color for your base. (the white covers the rock best)
With pencil add the Haring image that you like.
Fill in the image with either the Posca markers, acrylic paint, or another paint pen or colored Sharpie. (use the same colors he used to make it really look like a Haring artwork)
Outline images and add action lines and other details with the black Posca pen or a black Sharpie. Also do a line around the rock at the edge of  the base paint. (see photo of rock edges)
When paint is completely dry spray with the clear sealer.
There will be a brand new Keith Haring step-by-step art lesson in my new book! Subscribe below for more details.
It only takes a few minutes to spread some love and kindness!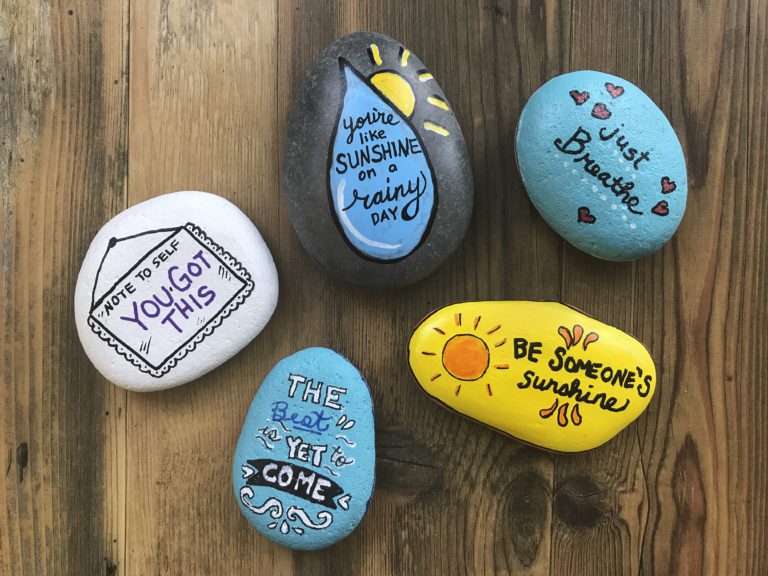 This page contains affiliate links and I may receive a commission for purchases made through these links. Everything on this page I have used and heartily recommend for teaching art.

My husband and I are on day 59 of a 2-5 mile walk. (we try and mix it up quite a bit and go different places) The walks have been so great to fight the isolation time and just a fun way to stay fit and have some good talks.
I got the idea to put out some kindness rocks in hopes to brighten someone's day and maybe give folks an idea of a fun art project they could do. Kindness rocks are not a new thing but given our current situation with  Covid-19 it seemed like a good way to share some joy with my town. You can put anything you want on them and there are a variety of ways to paint them. I like using the Posca paint pens that I talked about in the Keith Haring Rocks! Art lesson that I posted recently.  You can also write things on the back like "Take me home" or "Share this with someone". I am going to put out some of my Keith Haring rocks on my walks as well. They are so fun and bright and make me smile, and hopefully they will bring a smile to someone else as well.
Let me know in the comments below if you make some of these kindness rocks! I'd love to hear your ideas and questions.
At the end of a 3 week vacation to Europe, I came away with so many pictures of things that captured my interest and the mood of the moment. I couldn't get enough of all the time worn doors, especially those in Italy.
Read More »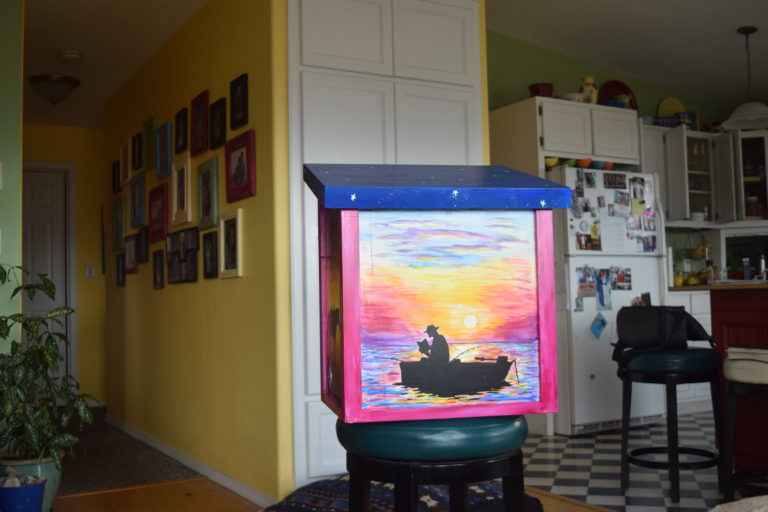 We painted Free Little Libraries! Does your city have a Little Free Library? These are little free standing libraries that have a "host" who looks after them and can be located in someone's yard , out in the country, or in front of a business or in a park.  You can take a book to read or leave one for someone else to find.
Read More »
This year marks the two year anniversary of our kitchen remodel! My wonderful cabinet maker husband finally got around to making this custom kitchen for our home and I couldn't be happier!
Read More »